Hostel
BIG MOUNTAIN HOSTEL began as an initiative of two professional guides, with the purpose of offering economic, clean, accessible, safe and cozy & familiar accommodation to travelers from all over the world.
After many years working as professional guides in the Cordillera Blanca, Huayhuash and around all of Peru; in 2011, we decided to open our own Travel Agency. While we were working on the agency, we projected to opening a transitory home for our clients; project which started coming true when at the beginning of 2015 we inaugurate of our longed project.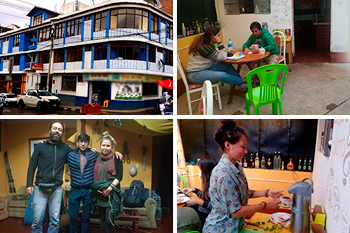 BIG MOUNTAIN HOSTEL
Our hostel features clean, spacious and comfortable rooms. Our dormitories are clean and spacious and has very comfortable beds, and with their own private bathroom with hot water. Each bed of our dorms has private spaces. Also, we have private rooms (matrimonial, double and triple). Additionally, we offer free of charge: tea and coffee, common-use kitchen, secure lockers, luggage storage, library, cable TV & DVDs, and Wi-fi access to all of the common areas.

From our incredible rooftop terrace, enjoy the sun and beautiful views of the snowing mountains, have fun practising rock climbing on our indoor climbing wall. Or, simply pass the time with our diverse selection of table-top games. Starting at 15:00 until 24:00 midnight is a great time to enjoy a refreshing local beer or cocktail in our rooftop bar and leaf through some books, listen to good music, and meet other travellers. Also, on especially cold nights, sing, dance, and play music around our rooftop bonfire pit.

As always, we provide personalized services. So, our professional guides staff are here at to advise and support you in whatever you may need (specially to help you to plan the best choices for your next adventure!).